Carmen Piazzini - Mozart: The Complete Piano Sonatas
Mozart: The Complete Piano Sonatas
Carmen Piazzini
Genre: Classical
Date: 28 Apr, 2009
Content: Not-explicit
Region: USA
Track(s): 55


℗ 2009 X5 Music Group
Cover Artwork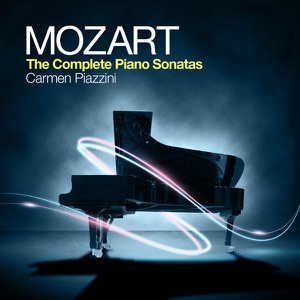 Tracklist / Songs
| NO | YouTube | Title | Artist | Time |
| --- | --- | --- | --- | --- |
| 1 | | Sonata for Piano No. 1 in C Major, K. 279: I. Allegro | Carmen Piazzini | 4:54 |
| 2 | | Sonata for Piano No. 1 in C Major, K. 279: II. Andante | Carmen Piazzini | 5:07 |
| 3 | | Sonata for Piano No. 1 in C Major, K. 279: III. Allegro | Carmen Piazzini | 3:28 |
| 4 | | Sonata for Piano No. 2 in F Major, K. 280: I. Allegro Assai | Carmen Piazzini | 4:32 |
| 5 | | Sonata for Piano No. 2 in F Major, K. 280: II. Adagio | Carmen Piazzini | 6:11 |
| 6 | | Sonata for Piano No. 2 in F Major, K. 280: III. Presto | Carmen Piazzini | 3:11 |
| 7 | | Sonata for Piano No. 3 in B-Flat Major, K. 281: I. Allegro | Carmen Piazzini | 4:23 |
| 8 | | Sonata for Piano No. 3 in B-Flat Major, K. 281: II. Andante Amoroso | Carmen Piazzini | 5:17 |
| 9 | | Sonata for Piano No. 3 in B-Flat Major, K. 281: III. Allegro | Carmen Piazzini | 4:44 |
| 10 | | Sonata for Piano No. 4 in E-Flat Major, K. 282: I. Adagio | Carmen Piazzini | 5:06 |
| 11 | | Sonata for Piano No. 4 in E-Flat Major, K. 282: II. Minueto I & II | Carmen Piazzini | 4:11 |
| 12 | | Sonata for Piano No. 4 in E-Flat Major, K. 282: III. Allegro | Carmen Piazzini | 2:21 |
| 13 | | Sonata for Piano No. 5 in G Major, K. 283: I. Allegro | Carmen Piazzini | 4:03 |
| 14 | | Sonata for Piano No. 5 in G Major, K. 283: II. Andante | Carmen Piazzini | 7:11 |
| 15 | | Sonata for Piano No. 5 in G Major, K. 283: III. Presto | Carmen Piazzini | 4:31 |
| 16 | | Sonata for Piano No. 6 in D Major, K. 284, "Dürnitz Sonata": I. Allegro | Carmen Piazzini | 5:24 |
| 17 | | Sonata for Piano No. 6 in D Major, K. 284, "Dürnitz Sonata": II. Andante | Carmen Piazzini | 5:32 |
| 18 | | Sonata for Piano No. 6 in D Major, K. 284, "Dürnitz Sonata": III. Thema con Variazioni | Carmen Piazzini | 16:57 |
| 19 | | Sonata for Piano No. 7 in C Major, K. 309: I. Allegro con Spirito | Carmen Piazzini | 6:08 |
| 20 | | Sonata for Piano No. 7 in C Major, K. 309: II. Andante un poco Adagio | Carmen Piazzini | 6:20 |
| 21 | | Sonata for Piano No. 7 in C Major, K. 309: III. Rondo (Allegretto Grazioso) | Carmen Piazzini | 6:45 |
| 22 | | Sonata for Piano No. 8 in A Minor, K. 310: I. Allegro Maestoso | Carmen Piazzini | 5:51 |
| 23 | | Sonata for Piano No. 8 in A Minor, K. 310: II. Andante Cantabile, con Espressione | Carmen Piazzini | 7:58 |
| 24 | | Sonata for Piano No. 8 in A Minor, K. 310: III. Presto | Carmen Piazzini | 3:15 |
| 25 | | Sonata for Piano No. 9 in D Major, K. 311: I. Allegro con Spirito | Carmen Piazzini | 4:50 |
| 26 | | Sonata for Piano No. 9 in D Major, K. 311: II. Andante con Espressione | Carmen Piazzini | 5:43 |
| 27 | | Sonata for Piano No. 9 in D Major, K. 311: III. Rondo: Allegro | Carmen Piazzini | 6:56 |
| 28 | | Sonata for Piano No. 10 in C Major, K. 330: I. Allegro Moderato | Carmen Piazzini | 6:09 |
| 29 | | Sonata for Piano No. 10 in C Major, K. 330: II. Andante Cantabile | Carmen Piazzini | 6:48 |
| 30 | | Sonata for Piano No. 10 in C Major, K. 330: III. Allegretto | Carmen Piazzini | 4:24 |
| 31 | | Sonata for Piano No. 11 in A Major, K. 331 "Turkish March": I. Andante Grazioso | Carmen Piazzini | 13:56 |
| 32 | | Sonata for Piano No. 11 in A Major, K. 331 "Turkish March": II. Menuetto | Carmen Piazzini | 6:37 |
| 33 | | Sonata for Piano No. 11 in A Major, K. 331 "Turkish March": III. Rondo: Alla Turca (Allegretto) | Carmen Piazzini | 4:30 |
| 34 | | Sonata for Piano No. 12 in F Major, K. 332: I. Allegro | Carmen Piazzini | 7:15 |
| 35 | | Sonata for Piano No. 12 in F Major, K. 332: II. Adagio | Carmen Piazzini | 5:23 |
| 36 | | Sonata for Piano No. 12 in F Major, K. 332: III. Allegro Assai | Carmen Piazzini | 5:47 |
| 37 | | Sonata for Piano No. 13 in B-Flat Major, K. 333: I. Allegro | Carmen Piazzini | 7:56 |
| 38 | | Sonata for Piano No. 13 in B-Flat Major, K. 333: II. Andante Cantabile | Carmen Piazzini | 6:10 |
| 39 | | Sonata for Piano No. 13 in B-Flat Major, K. 333: III. Allegretto Grazioso | Carmen Piazzini | 7:23 |
| 40 | | Sonata for Piano No. 14 in C Minor, K. 457: I. Molto Allegro | Carmen Piazzini | 6:25 |
| 41 | | Sonata for Piano No. 14 in C Minor, K. 457: II. Adagio | Carmen Piazzini | 8:06 |
| 42 | | Sonata for Piano No. 14 in C Minor, K. 457: III. Allegro assai Agitato | Carmen Piazzini | 5:14 |
| 43 | | Sonata for Piano No. 15 in F Major, K. 533: I. Allegro | Carmen Piazzini | 9:19 |
| 44 | | Sonata for Piano No. 15 in F Major, K. 533: II. Andante | Carmen Piazzini | 8:12 |
| 45 | | Sonata for Piano No. 15 in F Major, K. 533: III. Rondo: Allegretto (K. 494) | Carmen Piazzini | 6:57 |
| 46 | | Sonata for Piano No. 16 in C Major, K. 545 (Sonata Facile): I. Allegro | Carmen Piazzini | 3:00 |
| 47 | | Sonata for Piano No. 16 in C Major, K. 545 (Sonata Facile): II. Andante | Carmen Piazzini | 5:12 |
| 48 | | Sonata for Piano No. 16 in C Major, K. 545 (Sonata Facile): III. Rondo: Allegretto | Carmen Piazzini | 1:48 |
| 49 | | Sonata for Piano No. 17 in B-Flat Major, K. 570: I. Allegro | Carmen Piazzini | 6:00 |
| 50 | | Sonata for Piano No. 17 in B-Flat Major, K. 570: II. Adagio | Carmen Piazzini | 8:48 |
Reviews
all for sonata, cool

By 小乱

it's what im looking for

Absolutely beautiful

By Mattpat119

Great price too

Exceptional - Highly Recommended!

By Javier O'Higgins

Really wonderful readings of Mozart. Good clean recording quality; nice instrument. Ms. Piazzini's work stands next to Brendel, Eschenbach, Perahia, Schiff, Uchida - yes, even Richter. As example, try Sonatas No. 6 (K. 284) or No. 13 (K. 333) and decide if tempo and dynamics ever made more sense. Add the ridiculously low price for this complete set and this album jumps to the top of the stack - a must buy.

What a steal

By SawyerMacdougle

Exceptional quality recording and outstanding tempo & phrasing. Listened to most all album choices and about passed over this one assuming would be poor recording but found this performance to be a 10 and great piano tones. Look no further. Dr. Doug

Crystalline Mozart senza pedale

By segabear

All I wanted was No. 16 in C-Major, K 545. What a bargain!!! Not since William Kappell have I heard Mozart played so transparent & flawless. I have no idea who Carmen Piazzini is, but I will look for him (her) in the future. Stunning performance in the truest sense of the word. A must have for Mozart collectors.
Carmen Piazzini Albums
Carmen Piazzini Songs
Latest Posts
Popular Posts